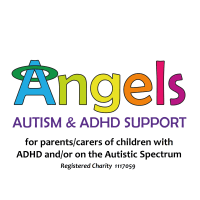 Nominee Profile
Location: Hertfordshire
Angels supports families of children with Autistic Spectrum Condition and/or ADHD. We were formed by, and are led by, parents whose children face similar challenges. We were set up in 2004 as there was no support available locally for parents, and have grown from a few mums sharing a coffee to an organisation that has a membership of over 1500 families, and who work directly to support over 600 families a year.
Angels is an experience-led charity, based in Hertfordshire, which provides individualised, professional expertise and advice. We work alongside parents to build understanding and to empower them to hear their child's voice. Our key aim is to maximise the individual potential of each child and young person.
We offer weekly group meetings, workshops and individual support for parents/ carers, an online moderated community for our members, and opportunities for families to find support, share ideas, experiences and concerns, and reduce isolation.
We are very proud of how much we have achieved in supporting our families over the years, in helping their children to grow up happy and achieve their dreams. We are a small charity with 6 part time staff and a small group of volunteers but we have built a strong community for our families in North Herts and Stevenage, and have helped to improve and develop services in Hertfordshire and build a better understanding of Autism and ADHD in our wider community, so that our families feel more included and their children and young people are better understood.
We see neurodiversity as a positive and aim to educate the world to appreciate all that neurodiversity can offer to our society, with the right understanding and support. We encourage parents and professionals to listen to the voice of the child, to see the world from their perspective and build their support around that, to help them to learn and develop into the best version of themselves rather than fit into society's narrow expectation.