Stephen Miller MBE
NDA23 Judge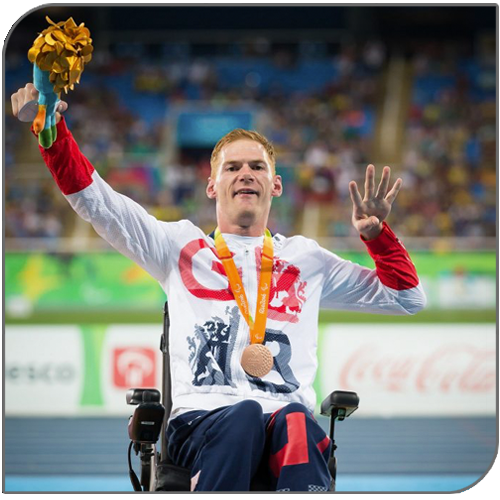 Stephen Miller MBE
Stephen is a three-time Paralympic Champion, six-time Paralympic medal winner, keynote motivational speaker, experience and workshop host, writer, charity founder and executive mindset coach.
Born with cerebral palsy, which challenges him every day of his life, Stephen has developed and harnessed a tremendously positive attitude towards life to overcome adversity and thrive. Stephen has represented Great Britain in Paralympic sport for over 25 years.
Stephen was first introduced to the Club Throw event at ten years old at a weekly school sports club. By the age of just 16, Stephen won gold at the 1996 Atlanta Paralympics, becoming Britain's youngest track and field gold medallist.
In total, he's competed in six Paralympic Games, seven World Championships and seven European Championships – winning 34 international medals.
Stephen won three Paralympic titles in a row at Atlanta 1996, Sydney 2000 and Athens 2004. He held the F32 Club Throw world record for 11 years from 1997 to 2008.
Awarded an MBE in the New Year's honours list in 2016 for services to sport, Stephen has given a lot back to the community. An avid visitor to schools, sports clubs, community groups and businesses. Stephen is passionate about inspiring people to get the most from life through embracing a positive thinking mindset.
In 2013, he founded SMILE Through Sport, a charitable organisation that combines the services of disability sport development activities with training and education programmes. The charity aims to help more disabled people benefit from taking part in sport.
Throughout his years as a professional athlete, Stephen has come to realise that life is full of adversity, struggle, and challenge, but it's in these moments when we feel most alive and can have our greatest achievements.
Stephen is now helping other people to overcome adversity and perform well under stress with positive thinking mindset coaching. Having great success working with business and corporate executives to excel in their professions.